The third generation Dolphin range includes the powerful new Pro version for both professional and leisure applications.
Features:
Heavy duty construction in powder-coated aluminium and stainless steel.
User-friendly design for ease of installation, set-up and operation.
Integrated control panel features LED indication of charging stages and errors.
A total of three diode isolated charging outputs without voltage drop.
Nine, user selectable charging programs for complete flexibility in battery type.
Will operate in high ambient environments up to 65° before de-rating.
All PCBAs are conformally coated to provide corrosion resistance.
Automatic protection against overload, excessive operating temperature and high voltage on output.
Fuse protected against reverse polarity connection on output.
Incorporates open CAN BUS interface for connection to standard J1939 monitored systems.
Newer model with LED touch screen also available: Dolphin Pro-Touch Battery Charger (see related products)
For technical specifications, see "Downloads" tab: Dolphin Pro Data Sheet
Related Products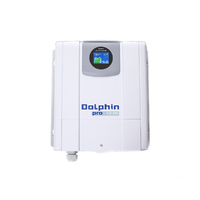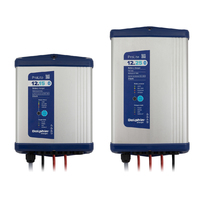 More From This Category