Sail repair needles made in the UK from high quality hand forged steel.
Supplied in packets of 25.
Note: The recommended retail price (RRP) is per needle, supplied in packs of 25 only.
Features:
High quality forged steel
Sharp reduced triangular point
Long eye
Green packet: Type 209
Size range: 10 to 18 gauge.
Please specify gauge size when ordering.
10 gauge = 95mm
11 gauge = 88mm
12 gauge = 81mm
13 gauge = 75mm
14 gauge = 70mm
15 gauge = 63mm
16 gauge = 60mm
17 gauge = 56mm
18 gauge = 53mm
Related Products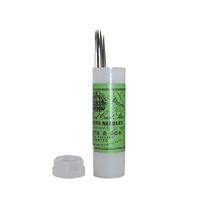 More From This Category