The AD300.2 MICRO 2-Channel Amplifier is ready to set you apart from the rest, it provides 300W total power output to deliver outstanding audio quality and volume.
With Bass Boost, Digital Technology, Bride Mode, and more, this amp delivers high-performance, reliability, and a sound quality second-to-none!
With 300 watts of pure power (150W per channel at 2 Ohms or 75W per channel at 4 Ohms), the AD300.2MICRO 2-Channel Amplifer packs enough punch for even the loudest of environments.
A built-in High-Pass/Low-Pass cross-over is adjustable from 40Hz to 400Hz and allows the output to be filtered for optimum use with a subwoofer or mid/high-range speakers.
Bridge Mode allows each channel's power to combined for maximum output, ideal for use with a single subwoofer. The Bass Boost feature supplies up to 12dB of boost-to-bass frequencies.
Digital amplifiers are more efficient, producing less heat, lowering power consumption, and reducing strain on batteries and charging systems.
Designed to support a variety of applications, the AD300.2MICRO 2-Channel Amplifer runs at both 4ohm and 2ohm speaker configurations, from either low-level (RCA) or high-level (speaker) input connections.
Rain? Dust? No problem! This high-performance, IP65 rated amplifier will withstand harsh conditions while never interrupting the music.
Features:
300W 2-Channel Digital Amplifier
IP65 Rated
High-Pass/Low-Pass Cross-Over
Bridge Mode
Digital (Class D) Technology
Various Applications
Multi-Environment Protection
2 year Warranty
| | |
| --- | --- |
| Type: | Digital (Class D) Bridgeable Amplifier |
| Waterproof / IP Rating: | IP65 - Dust tight and protection against heavy seas, or powerful jets of water |
| Input Channels (Low-Level): | RCA inputs (L & R) |
| Input Channels (High-Level): | Speaker inputs (L & R) with Auto Detect |
| Output Channels: | 2 |
| Output impedance (nominal): | 4 Ohms / 2 Ohms |
| Power Output (RMS) @ 4 Ohms: | 200W (2x 100W) |
| Power Output (RMS) @ 2 Ohms: | 300W (2x 150W) |
| Power Output (RMS) – Bridged @ 2 Ohms: | 300W |
| THD: | <1% |
| THD (Bridged): | 1% |
| Frequency Response: | 10Hz – 45kHz |
| High-Pass/Low-Pass Cross-Over Frequency: | Configurable from 40Hz – 400Hz |
| Bass Boost (@ 85Hz): | Configurable from 0 – 12dB |
| Overload Protection: | Yes |
| Dimensions: | 166 x 113 x 46mm |
Related Products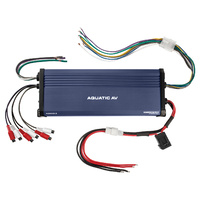 More From This Category