The BLUECUBE6+ Stereo is our top of the line solution for quality sound, added features, and staying out of sight. This source unit features Bluetooth Audio, MP3, USB and 288W Total Power – just to name a few! Looking for the best hide-away stereo with all the added features? Look no further than the BLUECUBE6+ Hide-Away Stereo!
Plays music wirelessly via a Bluetooth enabled smartphone, MP3 device, USB thumb drive, or AUX inputs (3.5mm Jack or RCA inputs). Listen to your favorite FM radio stations and save some with the 3 FM presets available.
Keep your system going with a 288W amplifier that powers up to 8 speakers or a combination of speakers and subwoofers. Control an external device, such as an amplifier, deck, or spotlighting directly from the stereo or remote control - sold separately (Output 12V DC, 3A max).
Install anywhere with waterproof (rated IP65), UV, and salt/fog resistant protection, enabling reliable performance in the toughest environmental conditions.
Smartphone running out of battery? Don't worry. This unit plays USB thumb drives with supported audio media and charges USB devices such as smartphones. Recharge your devices anytime, anywhere!
Receive a stronger Bluetooth signal and greater range in all directions over standard Bluetooth with Halo Aerial Technology.
Easily power a subwoofer in addition to standard speakers by using the two rear speaker channels in Bridge Mode operation.
Uses digital technology to enhance bass response. Even on small speakers, the perceived bass frequencies are extended to create a more luxurious listening experience.
Allows common EQ settings to be applied to enhance music content, such as Pop, Classical, and Rock, or manually adjust bass and treble for a tailored sonic experience.
Features:
Bluetooth / MP3 / USB / AUX
AM/FM Radio with 3 FM presets
288 Watt Amplifier to power 8 speakers/subwoofers
Wireless control connectivity
USB Charging
Halo Aerial Technology for stronger bluetooth signal
Bridge Mode (rear channel subwoofer output)
Virtual Bass to enhance bass response
Common EQ settings
12V Trigger to control an external device
2 year Warranty
Handheld remote controls and wired remote controls WR6 sold separately.
| | |
| --- | --- |
| Supported Media: | Bluetooth Audio, USB, MP3, WMA, FM, AUX |
| Device Control: | via device or remote control (sold separately) |
| Device Charging: | Yes – via USB |
| Remote Control Charging: | Yes – via USB |
| Halo Aerial Technology: | Yes |
| Inputs: | Bluetooth, 1x USB, 1x stereo pair RCA |
| Outputs: | 2x stereo pair RCA (4V) |
| FM Tuner: | 3x FM pre-set memory |
| Power (max): | 4x 45W (4 Ohms) / 4x 72W (2 Ohms) |
| Amplifier Type: | Class A/B (2 Ohm stable) |
| Operation Voltage: | 9.6V – 14.4V DC |
| Current Draw: | 6mA (standby), 7A (max) |
| Waterproof / IP Rating: | IP65 - Dust tight and protection against heavy seas, or powerful jets of water |
| UV Protection: | ASTM D4329 compliant, 500hrs stable |
| Salt/Fog Protection: | ASTM B117 compliant, 500hrs stable |
| Dimensions (HxWxD): | 59.5 x 202.5 x 137.5mm |
| Accessories: | RF6 Handheld Remote Control (sold separately) or WR6 Wired remote control (sold separately). |
| Additional Features: | Virtual Bass, Bridge Mode (rear channel subwoofer output), DSP EQ, Bass/Treble, Balance/Fader, Loudness, External Trigger (12V DC, 2A), Stainless Steel mounting hardware |
Related Products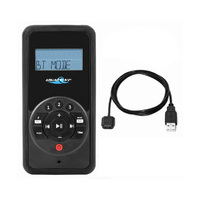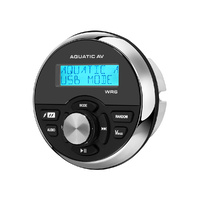 More From This Category