This small heavy duty bait board has a removable leg that slots into standard vertical rod holders.
A sturdy cutting board made from food grade polypropylene includes 2 recessed compartments, full width run-off tray and 40cm fish measurement rule. Along the side of the tray are
3 knife slots, to secure them safely in place when not in use.
The single leg fits rod holders with an internal diameter of 36mm and has an adjustable bracket to balance the angle of the board.
The 430mm long leg has a rubber end cap with gimble pin cutouts and a movable collar along the shaft, to stop the board from slipping around in the rod holder mount and creates a snug fit.
Features:
Heavy duty small board
PE plastic cutting board
2 recessed compartments
Knife slots along the tray edge
Full width run-off tray
Fish measurement rule. (0cm - 40cm)
1 adjustable angle leg, rod holder mount (dia: 36mm)
Dimensions:
Cutting board: 420mm (L) x 220mm (W) x 80mm (H)
Length length: 430mm
Overall: 450mm (L) x 370mm (W) x 540mm (H)
Related Products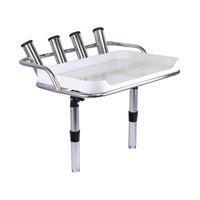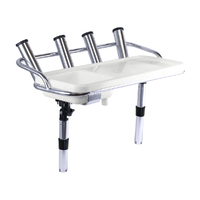 More From This Category