This small heavy duty bait board has a removable leg with an adjustable rail mount bracket to suit 25mm rails.
A sturdy cutting board made from food grade polypropylene includes 2 recessed compartments, full width run-off tray and 40cm fish measurement rule. Along the side of the tray are
3 knife slots, to secure them safely in place when not in use.
The single leg has a rail mount to suit 25mm rails and an adjustable bracket to balance the angle of the board.
Features:
Heavy duty small board
PE plastic cutting board
2 recessed compartments
Knife slots along the tray edge
Full width run-off tray
Fish measurement rule. (0cm - 40cm)
1 adjustable leg with rail mount bracket (suits 25mm rails)
Dimensions:
Cutting board: 420mm (L) x 220mm (W) x 80mm (H)
Length length: 250mm
Overall: 450mm (L) x 370mm (W) x 300mm (H)
Related Products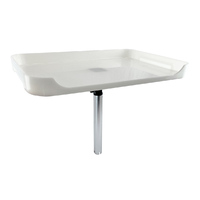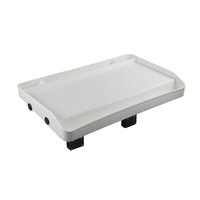 More From This Category