The Flush Mount Offshore 115 Plastimo compass is suitable for boats 8-12m in length and features Universal Global Balance so it can be used anywhere in the world.
Featuring a built-in articulated hood which can be partly closed to adapt to the light and avoid glare on the dome. When totally shut, the compass is perfectly protected.
The 'vibration absorber' system maintains the compass' accuracy in all conditions at any speed and the integrated LED bulb within the bowl provides an even spread of illumination.
Plastimo compasses feature a fully waterproof diaphragm that has extreme expansion and retraction capacity. This enables it to compensate the fluctuations in fluid volume caused by the differences in temperature and atmospheric pressure. Tested in the most extreme of conditions, these compasses will not leak or develop bubbles.
Mounted flush to a flat horizontal surface or purchase the optional binnacle for pedestal mount.
Colours available:
[RWB8094] Black housing with black card
[RWB8096] White housing with black card
[RWB8097] White housing with white card
Features:
Suits boats 8m to 12m in length
Flush mount on a flat horizontal surface
Conical card
Built-in roll-down telescopic sun hood/cover
Highly stable conical card with 101mm apparent diameter
Graduation every 5 degrees
Compact figures for easy reading
Heading numerals every 30 degrees
1 lubber line in red
Global Universal Balance
Compensator included
Vibration absorber system to keep the card stable
Watertight one-piece moulded bowl and flange
12/24V LED light integrated within the bowl
Scratch resistant dome
All parts fully UV treated
Operation temperatures: -30°C to +60°C
Supplied with screws and drilling template
ISO 25862 compliant
5 year limited warranty
Optional binnacle mount available (sold separately - see related products)
Also available with flat card (see related products).
Related Products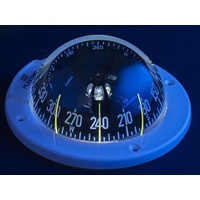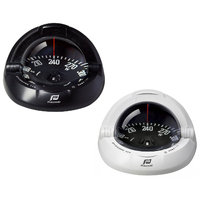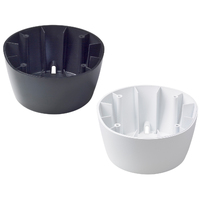 More From This Category