Complete stainless steel three-groove connector with 130º angled hose adaptor fitting with tap.
Keep your vessel clean with ease using the Aquor Deck Wash Outlet. Simply push and twist the polymer hose connector into the stainless steel outlet, and water flow starts automatically.
The outlet sits flush with your boat's deck for safety and accessibility. It's a revolutionary water connector featuring unmatched ease, convenience, and durability.
Styled much like a deck filler, this heavy duty quick connector is made from cast 316 stainless steel and clearly labelled "WASHDOWN".
The stainless steel deck fitting includes its own stop valve to shut the water off when the hose adaptor is removed. The hose adaptor simply twists and locks into the 3 groove deck stainless steel recepticle and the double 'O' rings assure a positive seal.
A non-return valve located in the hose adaptor prevents water from spraying out when the adaptor is removed from the stainless steel deck fitting.
The adaptor has a garden hose thread on the end so the HoseCoil self-coiling hoses screw straight onto it.
The stainless steel deck fitting has a 1/2" BSP female threaded inlet for supply water connection.
Deck Fitting Size
Diameter: 73mm
Length: 100mm
Cut out: 40mm
Features:
Adaptor includes ON/OFF faucet
Related Products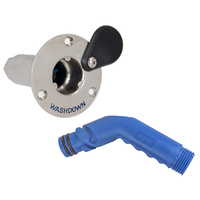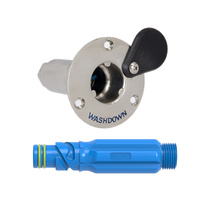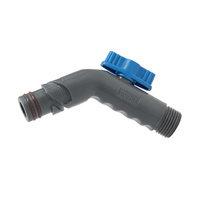 More From This Category