The E.V.A. B100 bumper fender is the largest in the range and can be fitted to any floating structure.
For protection to marina or ports where boats are moored or subjected to other dangers.
Each length can be interlocked with the next to create desired length or spaced out on the horizontal on high concrete docks.
The range E.V.A. dock fenders/bumpers are superior to the PVC inflatable counterpart.
Length: 950mm
Width: 350mm
Depth: 180mm
Features:
Made from E.V.A - Ethylene Vinyl Acetate
Blue colour
Suitable for Marinas, Harbours, Pontoons, Jetties ect.
Withstands heavy loads without damage
Very lightweight
Mount vertically or horizontally
Soft cushioning for protection from docking
Non-marking UV protective fender material
Does not require inflation
Long life expectancy, much greater than PVC or rubber
Related Products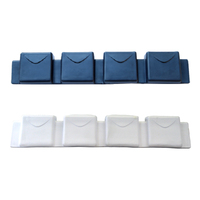 More From This Category