The Pontoon "PT" series models are special electrical capstans designed to weigh anchor onboard of pontoon or boats with a little space available.
It can be easily installed either above or below the deck.
PT models can also be used as fishing capstans or to lift the tender onboard of yachts.
The roller can retrieve webbing strip 48 mm wide, 7.5m long.
Optional Additions:
Up-Down Control Panel
Wireless Controls
Handheld Remote Controls
Foot Switches: Up-Down for the deck
Circuit Breaker
Webbing Strap (PTG models)
Model
PTG 700
Watts
250w
Voltage
12v
Max. Pull
600kg
Max. Working Load
220kg
Working load
80kg
Current absorption
@ working load
22A
Max. Rope Speed
20.8m/min
Drive Shaft
Horizontal
Capstan Option
No
Chain/Rope Gypsy
Drum
Related Products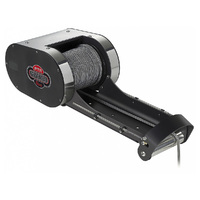 More From This Category