Heavy duty tie bars for quad outboard engine with twin UC128-OBF or UC130-SVS front mount cylinders. The A98 tie bars are completely made up of stainless steel and are already preassembled and ready to be installed.
Its length can be adjusted: the distance between centers varies from 660mm to 812mm.
Features:
Quad outboard / twin cylinder
Allows to tilt the engines independently
304-grade stainless steel components
Electropolished stainless steel ball joints
Preassembled bar supplied with screws
Note: As the tiller arm position varies from engine to engine and the distance between two engines is not predictable, unexpected interferences may occur while tilting. A duly check of the tie bar installation is then strongly recommended.
The recommendations below should be used as a general reference only.
Engine
Power
Mercury®
175/200/225 V6 Fourstroke
250/275/300 V8 Fourstroke
OPTIMAX V6
Honda®
200/225/250 V6
Yamaha®
200/225/250/300 V6
150/175/200 L4
Evinrude®
V4 and V6 E-TEC
Suzuki®
200/225/250/300/350 V6/V8
150/175/200 L4
Related Products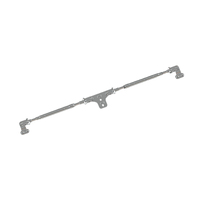 More From This Category