The Piranha P6 colour-changing LED underwater light gives you the ability to showcase your boat in infinite colour choices. No costly external controllers required - just hook up to a simple On/Off toggle switch for easy colour selection, or select to Strobe, which is proven to attract fish. Producing 2700 fixture lumens, this light will help your boat stand out from the crowd in the marina, river or ocean, illuminating it in a rich array of colours that won't fail to get your guests in the party mood.
How the P6 Colour-Changing light works:
When powered up for the first time or from re-set, the light will appear in white, scroll through the colour range and keep scrolling until stopped by any of the steps below.
To pick a particular colour, turn the light off and then on again within 1 second and the chosen colour will be selected (this may take a little practice as too fast or slow may not work).
If you switch off and on again quickly for the second time the light will start to strobe.
Switch off the light and leave for over 5 seconds. When the light is switched back on the light will reset back in White mode.
When the light colours become out of sync, simply repeat step 4 to re-set to initial colour cycle mode. This process may need to be repeated more frequently when you have a higher number of lights installed on your boat.
With regard to the number of lights your boat needs to pack a colour punch, Bluefin recommends installing 1-5 lights from the Piranha range on the transom or side of centre-console and runabout boats. Recommended spacing between the lights is from 1.2m (3ft 11 inches) to 2m (6ft 6 inches). The Piranha P6 is suitable for all hull types on boats up to 14m (45ft) long.
The Piranha P6's circuit board is manufactured in copper ceramic. This material is chosen for its superior thermal performance, unlike many of Bluefin LED's competitors who use cheaper materials such as aluminium or fibreglass. This light is also incredibly easy to install with just one small cable-entry hole and 3 mounting screws, and is suitable for a wide range of boats.
Features:
Suitable for transom or side-hull mounting
Surface-mount, requires 15mm cable-entry hole
Recommended for boats up to 14m (45ft)
6 x LEDs, producing 2700 fixture lumens
Precision Timing Technology ensures continuous light synchronisation
Suitable for in and out-of-water use
IP68-rated gel connector provided
Two-year warranty
If hosting a party on your boat isn't your thing, underwater lights can be great for fishing at night where they not only make it easier to see fish in the water but also attract them to your boat! As well as producing a whole spectrum of colours, they can be strobed, dimmed or sequenced to move in time with music or in patterns programmed via a controller. Bluefin`s unique Precision Timing Technology (PTT) ensures continuous synchronisation of the the lights without the need of any costly external controllers.
Different colours penetrate the water to varying depths. Red light can't be seen past 5m, orange disappears at 10m, yellow at 20m, green (one of the deepest) at 30m, but blue is by far the furthest at 50m. The human eye is sensitive to both green and blue shades so both colours stand out and are quite spectacular at night if you are looking for the fishing and party effect. Green is also a good colour in areas where the water clarity is poor. The green light will make the water appear cleaner and reflect less.
How your light appears in the water will vary slightly depending on factors such as the mineral content of the water your vessel is in, how deep it is, sea floor & sediment composition, water pollution, water clarity etc.
Mounting Type: :
Surface
Hole cut out size:
15mm (Gland size: 13mm)
Fixture Lumens:
2700
Max Wattage:
50 Watts
Typical Life Expectancy:
50,000 hours
Voltage:
Multivolt 12V/24V
Power Draw:
4A @ 12V / 2A @ 24V
Protection:
Over / Under Voltage, Over Current, Reverse Polarity protection,
Active thermal protection and Hydro block technology
Fixture Profile:
17.6mm
Fixture Diameter:
110mm
Lens Type:
3mm optical-grade high impact polymer, Guard X Coating
Fixture Material:
Aluminium
Beam Angle:
60 Degree
Warranty:
2 Year
Type Approval:
RINA IEC 60529
Available Colours:
Full RGBW colour change, toggle-switch operation, colour scroll on startup
PTT Technology ensures continuous synchronisation of all the lights
Suitable Use:
Above & below the water-line
Spacing:
1.2 - 2.0m
Driver Type:
Integral
Total weight:
500g
Attached cable length:
1.8m
Included in box:
In-line fuse holder & rated fuse, gel connector, inline crimps,
heat shrink, fixing screws, template and installation instructions
Optional Accessories:
(sold separately)
• Junction Box: 4-way IP68-rated wiring junction box
• BL-Switch: Panel-mount illuminated switch & wiring loom
• 220/110V Power Supply: Power supply 24V for up to 5 lights
• I.Y.S Lighting Control: Control via MFD screen or mobile device
We Also Recommend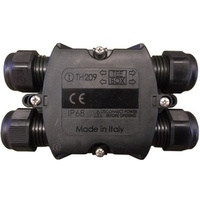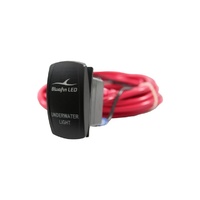 Related Products
More From This Category