Replacement gasket seal to suit Bomar Low Profile A & P series NIBO Extruded Deck Hatches with 9mm lens thickness.
Bomar MPN: P2000-25
Suits Bomar Hatch Part Numbers:
N1029-10PX
N1060-10PX
N1040-10PX
N1070-10PX
N1080-10PX
N1039-10PX
N1049-10PX
Features:
Black rubber gasket
Sold per foot
Instructions on Replacing Bomar Hatch Gasket with Lip:
Pull out the old gasket

Starting near a hinge, gently push the lip of the gasket into the space between the lens and extrusion.

Carefull cut the gasket to length forming a butt joint

Pull out two inches of the gasket either side of the joint and super glue together. Be very careful not to get superglue on the lens. Leave for about 5 minutes to allow the adhesive to completely set.

Push gasket back into the cavity and apply a drop of glue in the four corners to secure the gasket in place.
Related Products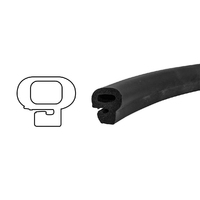 More From This Category