The Piranha P12 Surface Mounted LED Cobalt Blue Underwater Boat Light utilises a high-quality aluminium fixture to produce a class-leading 6800 fixture lumens.
Its ultra-compact low-profile design is perfect for all types of boats, suitable for transom and side mounting on all hull types.
Reverse polarity protection with in-built driver technology and active thermal rollback.
It's also incredibly simple to install with just one small cable entry hole and three mounting screws.
Features:
Suitable transom or side hull mounting
Surface mount, requires 13mm cable entry hole
Recommended for boats up to 20m (65ft)
Suitable for in and out of water use
Two-year warranty
Mounting Type: :
Surface
Hole cut out size:
13 mm
Maximum Lamp Lumens:
9000
Fixture Lumens:
6800
Max Wattage:
55 watts
Typical Life Expectancy:
50,000 hours
Voltage:
Multivolt: 12V/24V
Power Draw:
4.6A @ 12V / 2.35A @ 24V
Protection:
Over / Under Voltage, Over Current, Reverse Polarity protection,
Active thermal protection and Hydro block technology
Fixture Profile:
17.6mm
Fixture Diameter:
110mm
Lens Type:
3mm Optical grade high impact polymer, Guard X Coating
Fixture Material:
Aluminium
Beam Angle:
60 Degree
Warranty:
2 Year
Type Approval:
RINA IEC 60529
Available Colours:
Cobalt Blue
Suitable Use:
Above & below the water-line
Spacing:
1.2 - 2.0m
Driver Type:
Integral
Total weight:
500 gm
Attached cable length:
1.8m
Included in box:
In-line fuse holder & rated fuse, Gel connector, Inline Crimps,
Heat shrink, Fixing Screws, Template and installation instructions
Optional Accessories:
(sold separately)
• Junction Box: 4 Way IP68 Wiring Junction Box
• BL-Switch: Panel mount illuminated switch & wiring loom
• 220/110V Power Supply: Power supply 24v for up to 5 lights
• I.Y.S Lighting Control: Control via MFD screen or mobile device
We Also Recommend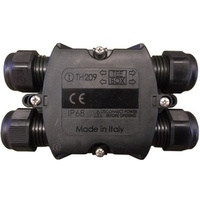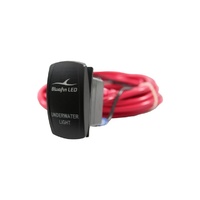 Related Products
More From This Category